2023 Outrigger Canoe Exhibition at Avila Beach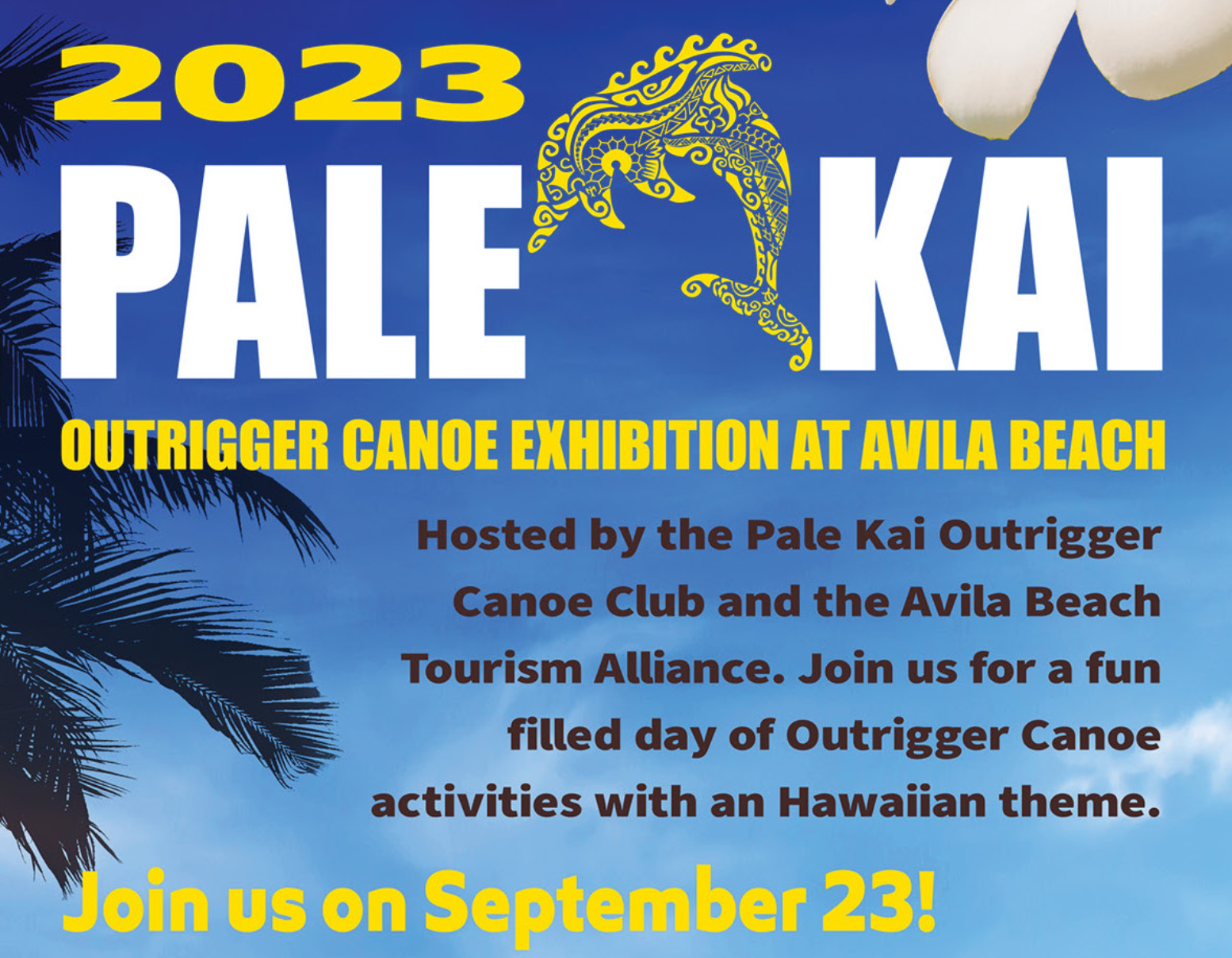 August 28, 2023
On Saturday, September 23rd, Pale Kai Outrigger and the Avila Beach Tourism Alliance will celebrate the end of our race season with an Outrigger Canoe Exhibition - An opportunity for Pale Kai, members of select guest clubs, and experienced paddlers, to join us for an informal paddle. The paddle will be followed by a raffle, silent auction, and luau on the beautiful Central Coast.
For Pale Kai, this is not only a time to celebrate with our friends, families, and peer clubs, it's also our primary fundraiser. This year, we plan to donate a portion of our proceeds to aid victims of the fires in Maui.
Note that, while the this event is open to the public, for liability reasons, only experienced paddlers will be allowed on the water and the plate lunch is restricted to paddlers and their families. The public is invited to observe the events, participate in the raffle and auction, and generally mingle with the paddlers.
If you're an experienced paddler and you plan to paddle with us, please RSVP by September 20th.
Event Details
Location: 599 Front Street, Avila Beach, California. Look for the Pale Kai flutter flags!

Schedule of Events (subject to change):

8:30am: Opening Ceremony
8:40am: Short course steers meeting and canoe and crew assignments
9:00am: Short course and keiki participants launch; raffle opens
10:00am: Long course steers meeting and canoe and crew assignments
10:30am: Long course participants launch
12:00pm: Hawaiian-themed plate lunch
1:00pm: Raffle closes; entertainment and beach games
2:00pm: Raffle and auction winners announced

Raffle
We have tons of great prizes including: An outrigger paddle, cool gear, hotel stays, wine and complimentary wine tastings, gift certifcates, Warriors tickets, artwork, and more. PKO cannot store or ship your prizes. If you must leave before the prizes are announced, please designate a friend or family member to collect your booty. Unclaimed prizes will be re-raffled.
Ticket pricing:
$20: 4 tickets
$40: 10 tickets
$80: 25 tickets
$100: 35 tickets

We encourage raffle participant to purchase their tickets in advance by September 20th. This allows us to prepackage your tickets. To pre-purchase your tickets, Venmo @PKO-StephTran by September 20th and specify the number of tickets you wish to receive.
Where to Stay and Eat
For information on lodging, dining and other attractions and activities in Avila Beach, go to visitavilabeach.com.
Additional Information for Paddlers
Lunch
Paddlers and their families may opt for a Hawaiian-themed plate lunch. Think Kalua Pork, King's rolls, mac salad, and more. Lunch is priced at $15 per serving with advance purchase (payment info below) and $20 at the event (subject to availability).
To pre-purchase and reserve your plate lunch, please Venmo your payment to @PKO-StephTran by September 20th and specify the number of lunches you're purchasing.
RSVP
To ensure availability of canoe seats, all OC6 paddlers are asked to
RSVP
by September 20th.
Course (subject to conditions)
Click here for a map.
| | |
| --- | --- |
| Short Course (about 6 miles) | Avila Beach southwest to green can #3 (just outside the breakwater); left turn around green can #3; northeast to White Rock; left turn around White Rock; then northwest back to Avila Beach. |
| Long Course (about 12 miles) | Avila Beach southwest to green can #3 (just outside the breakwater); right turn araound green can #3; northwest to Pecho Rock; left turn around Pecho Rock; then reverse course and return to Avila Beach (including a left turn around can #3. |
Additional Information for our Guests
Good to Know

Free street parking (but it fills up fast!)
Paid Parking at 502 1st St
We do not charge seat fees for this event. In lieu of seat fees, we hope you'll participate in the raffle
All paddlers will be required to have a current SCORA waiver on file with SCORA or with PKO. If you don't have a current waiver on file, save yourself a few minutes by downloading and printing the waiver HERE
Dogs are not allowed on the beach; please make alternative arrangements your furry friends

Good to Bring

Reusable mess kit (to reduce waste)
Beach chair or blanket
Change of clothes (if you plan to paddle)
Layers (it can be chilly in the mornings and evenings)

Coaches

We have a limited amount of space for trailers. If you intend to tow your canoes, please coordinate with Coach Scott: 805-234-3870 or scottebix@gmail.com.
If you have questions, contact palekaioutrigger@gmail.com.